This post will contain the review for anime The Way of the Househusband and the live-action web series The Ingenuity of the Househusband.
Anime: The Way of the Househusband
Genre: Action, Comedy, Slice of Life
Original Run: April 8, 2021 – October 7, 2021
Where to watch: Netflix
I was not expecting this to be a funny anime. Before I continue this is what this anime is about:
Tatsu, an infamous and feared yakuza boss nicknamed "the Immortal Dragon", retires from crime to become a househusband so that he can support Miku, his kyariaūman wife. The episodic series depicts a variety of comedic scenarios, typically wherein Tatsu's banal domestic work as a househusband is juxtaposed against his intimidating personality and appearance, and his frequent run-ins with former yakuza associates and rivals.

Wikipedia
The Story
To be honest, I really was not expecting this anime is a comedy. It is what the blurb above described. This consists of short funny skits per episode. It was all about Tatsu just living a simple and productive life of being a househusband and the people around him misunderstanding stuff.
The flow of the episodes is simple and entertaining, sprinkled with a couple of housekeeping tips. And this is really funny. At least for me. Just watch it and let me know if you also found this anime funny.
The Characters
Tatsu is not that interesting, for me, despite him being a protagonist. What I found interesting was the reaction of the other side characters to what Tatsu was doing. That includes his wife, Miku, and Masa, that lazy dude, that was Tatsu's underling in their former gang. Not to mention those other former yakuza members who are also trying their best to blend into society.
My favorite character was Gin the cat. Look at Gin. Adorable.
The Art
I like the character design but that animation… I am not a fan of the animation for this one. Or lack of animation. It was just bad. I only managed to finish watching this entire anime because I was entertained by it. But the animation was really bad, borderline annoying at times.
Just look at these samples.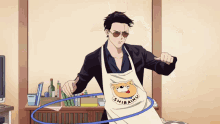 Final Thoughts
Overall, it was an ok anime. You can just go ahead with your life and not watch it. But if you're bored, give this one a try. Maybe you'll manage to ignore the animation and just watch the funny parts.
---
Title: The Ingenuity of the Househusband
Where to watch: Netflix
This one is about the real-life Japanese voice actor Kenjirô Tsuda, the VA for Tatsu, trying out what it's like then embracing the life of being a househusband. This is influenced by him reading the script for the anime The Way of the Househusband.
Each episode is short, as in 4 mins short. And it was all about Tsuda-san giving you housekeeping tips and him failing about something in the end.
I watched this after finishing the anime and I think I liked it because of that. I found Tsuda-san funny and charming and the tips are really helpful. I tried a couple after watching it.
I can suggest this to people who are interested in housekeeping and a bit of humor. Other than that, you can skip this one.
---
There you go! I need to go now since I wrote this review while having my hair colored at home. Need to rinse my hair now.
Thank you le fiance for coloring my hair. U DA BEST.
I'll talk to you again this weekend for a book review. Keep safe!