Hello there! Welcome to this month's favorite post. I don't have any witty intro, so let's just go straight to my favorite stuff for this month.
Gilmore Girls
I was looking for some series to watch while working and I stumbled on Gilmore Girls. And it sucked me in. I think I finished watching the first season in just a few days. I decided to stop watching it for awhile since work has been stressful lately and I am craving for something funny to watch. Which brings us to…
SpongeBob
Yes, in the midst of one stressful work week, I decided to randomly watch SpongeBob on Netflix. They have a couple of episodes that I haven't seen yet. So, I went right it. I have to say that the nautical nonsense still made me laugh a bit. And yes, I am at that point in my life where I can relate more to Squidward, well, not all the time but you get the point.
Parokya ni Edgar
Speaking of things I decided to go back to. This week I decided to listen to the old Parokya ni Edgar Inuman Sessions albums (volume 1 and 2) that are on Spotify. I have been listening to either Blackpink or BTS lately and I decided to listen to some good Original Pilipino Music (OPM) for a change. And gosh, I forgot just how much I enjoyed listening to PNE when I was in High School and College. If you are a kapwa Pinoy and curious about Parokya ni Edgar, here is a link to one of their live:
Maddi Bragg
Now, for my favorite YouTuber this month. I have to admit, it has been a long time since I watched Maddi that I didn't even notice that she went in a sort of hiatus from YouTube. Maddi appeared on my YouTube recommendations last January and I was curious when I saw that it wasn't beauty related but instead about her making Marinara from scratch. And being me, someone who loves anything cooking and food related, I clicked. I have to say, I love this new Maddi. I love how she seems so passionate about food. I am now subscribe to her again. Here is the link to her Marinara video:
Genshin Impact Lantern Rite Event
Now, for gaming stuff. This February, Geshin Impact held the most entertaining event they had in the game (so far). The Lantern Rite event will last from Feb. 10 till Feb. 28, 2021. There is so much to do in game, asides from the usual daily and weekly bosses. What I liked in this event is the Theater Mechanicus. It's a tower defense game within Genshin Impact. I am not good at playing tower defense, so of course I required le fiance to help me because he is good at those types of games. Le fiance and I play it in Co-Op mode and yes, we spent Valentine's Day playing in Theater Mechanicus.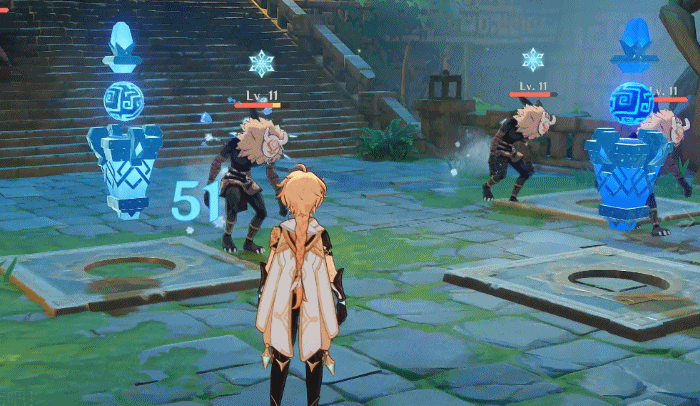 Photo from https://genshin.mihoyo.com/
Le Fiancé (Childe) and me (Lumine). Yes, we are Chilumi shippers.
Animal Crossing Festivale
Speaking of game events, we experienced our very first event on ACNH when Pave arrived on the island. It was so fun talking to Pave, despite the repeating dialogues. I also love seeing our villagers in Festivale costumes and all that dancing is really cute. It was a fun day.
Me meeting Pave for the first time.
---
That is it. Yup, I don't have any favorite book this month despite me reading three this month. Here are the links to my book reviews if you're interested:
Book Review- Get A Life, Chloe Brown
Book Review- Love & Luck
Book Review- In Five Years
Thank you so much for reading! Talk to you again this weekend.
Instagram- @thecatwithabook
Goodreads- goodreads.com/thecatwithabook